Stamped Concrete Is Crafted To Mimic Other Building Materials Such as Wood, Flagstone, Tile, Stone, Brick and Slate
The Home or Business Owner Makes Selections for Their Stamped Concrete Project.  Those Selections are Explained In the Following Steps
Step 1 | Choose Your Stamp Pattern
Step 2 | Choose Your Integral (Main) Concrete Color
Step 3 | Choose Your Stamp Release (Character, Indentations) Color 
Once you complete those three steps as a home or business owner you can sit back in anticipation of your wonderful stamped concrete project!
Stamped Concrete is a Great Option for:
Stamped Concrete Patios
Stamped Concrete Driveways
Stamped Concrete Porches
Stamped Concrete Walks
Stamped Concrete Floors
Stamped Concrete Pool Decks
Stamped Concrete Dining Area
Stamped Concrete Bar Area
Stamped Concrete Wine Tasting Room
Residential Stamped Concrete or Stamped Concrete Overlay Applications:
Basements
Carports
Driveways
Foyers
Garages
Kitchens
Living Rooms
Patios
Pool Decks
Porches
Sidewalks
Commercial Stamped Concrete or Stamped Concrete Overlay Applications:
Arenas
Bathrooms
Churches
Classrooms
Driveways
Garages
Hotel Entryways
Kitchens
Lobbies
Patios
Plazas
Pool Decks
Restaurants
Retail Stores
Shopping Centers
Showrooms
Sidewalks
A Concrete Finisher (or Mason) sets a large, heavy rubber pattern on top of the concrete and then tamps to emboss the pattern from the stamp into the surface of the stamped concrete mix.  These concrete stamp patterns are placed side by side careful not to drag, dig or otherwise touch the concrete surface until in the exact location the concrete finisher wants them.  This process continues in a steady process from start to finish.
Usually there is one person responsible for texturing and grooving the edges of the concrete that the patterns don't stamp well.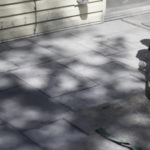 The concrete stamps do not stamp as deep along the edges of the pad due to being up against the home or structure – the concrete stamps will not completely unfold.  Or along the edges with the forms because the top of the wood or metal form doesn't allow deep enough embossing of the stamp.  All the edges have to completed by hand to assure an authentic look.
What Makes Stamp Concrete Different From Regular Concrete?
The Process of Pouring Stamped Concrete is Similar to Regular Concrete in Many Ways With Several Additional Steps
As with regular concrete – the sub grade, forming, re bar pinning where needed and wire mesh is still critical.
The concrete mix changes for stamped concrete by utilizing a smaller aggregate.  The smaller aggregate in the stamped concrete mix is used to make sure that all areas of the stamped concrete pour is uniform.  The uniformity keeps the slab strong and consistent for years of beautiful enjoyment.
Integral color can be used to color the concrete one hundred percent throughout the mix or a color hardener can be broadcast upon the surface and worked in.   (Benhardt Construction prefers mixing the color with the concrete batch because should there ever be an issue where your yard care service bumped a corner of the slab with a mower deck or someone dropped something heavy on the surface – the color will still be there and make the blemish far less noticeable.)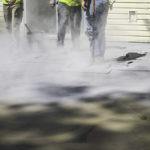 Before the stamping of the concrete starts – color release powder is  broadcast across the surface of the concrete.  This release is similar to flour when making biscuits in that the release allows the stamp to be removed from the concrete while leaving the concrete surface in tact.
Any groove or texture from the stamp itself is pressed into the concrete surface.  This results in a nice color contrast between the main concrete color and the accents.
After the stamping process is complete the concrete is allowed to cure and then the stamped concrete will be lightly power washed to remove excess release.  Once the power washing is complete the concrete is allowed to dry until the next day.  The sealer is then applied.
Stamped Concrete Can Be a Viable Part of Your Next St. Louis or St. Charles Concrete Project.
Home and Business Owners in Bridgeton, St. Charles, O' Fallon, Lake St. Louis, St. Paul, Defiance, New Melle or Wentzville Can Benefit from Stamped Concrete.  Stamped Concrete can make your next concrete project stand head and shoulders above the rest.  Stamped Concrete makes your concrete project unique and special while adding elegance.
Your St. Louis County or St. Charles County Business can benefit from Stamped Concrete as well.  
Stamped concrete for your business patio, dining area, entry way, bar and wine tasting room subtly tells your clientele your place of business is above average.  When you incorporate stamped concrete into your business – whether it is a restaurant, a winery or retail – your investment in stamped concrete returns back to you many times over.  The reason being is that you will be able to charge more for your products, services or foods if your customer service matches the magnificence, sophistication and splendor that stamped concrete brings to the table.
Your Stamped Concrete is Going to Turn Heads and Open Mouths!
Stamping your concrete is a sure fire way to make your property stand out from the rest of the neighborhood.  Your stamped concrete will be a direct reflection of your style, tastes and personality.  Your neighbors, friends and family are going to be impressed with your stamped concrete.  Your stamped concrete will be talked about a lot.  I can promise you that!
If you have a Benhardt Construction stamped patio, your next gathering is going to sure sound like the chicken coop!  What I mean by that is everybody is going to be doing a lot of clucking and looking at the ground!  People won't have their chins on their chest looking at their phone.  Oh no, they will be looking down at that beautiful stamped concrete like it's a rare piece of artwork on loan to the local museum.  The beauty of stamped concrete is appreciated by everybody – unless of course someone is jealous of your stamped concrete.
That person jealous of your stamped concrete you will notice right away because that person won't be looking at your stamped concrete.  That person might even refuse to stand on your stamped concrete.  Offer that person a beer or a glass of wine and hold it out after calling their name.  Watch them wince as if in pain when they have to step on that beautiful stamped concrete to get to that drink!  You see, that person is not proud of you or glad for you.  That person knows that there is little to no chance of them ever having something as nice as your stamped concrete.
That's a shame for them really because everyone else is going to really enjoy spending time at your place.  You may soon be like Frank Sinatra was back in the day and be the very home that everyone wants to be at.  Shoot, you may even have to pretend you are not home just so you can enjoy your stamped concrete all by yourself!
I sure hope that this article helped you understand the benefits of stamping your next concrete project.  When the time comes for your stamped concrete project I really appreciate the opportunity to meet with you.  You see, Benhardt Construction's Stamped Concrete is award winning AND built to last.  Benhardt Construction's Stamped Concrete will be pretty AND last for a long time.  I stand firmly behind my belief that Benhardt Construction's Stamped Concrete is long term solution to my client's stamped concrete needs.
Benhardt Construction's Concrete Stamp Options Are:
Ashlar Slate Concrete Stamp Pattern, Majestic Ashlar Concrete Stamp Pattern, Rotating Ashlar Blue, Slate Concrete Stamp Pattern, English Ashlar Concrete Stamp Pattern, Random Sandstone Hammered, Edge Concrete Stamp Pattern, Arizona Flagstone Concrete Stamp Pattern, Oxford Slate Concrete Stamp Pattern, Italian Slate Concrete Stamp Pattern, Heavy Stone Concrete Stamp Pattern, Chiseled Slate Concrete Stamp Pattern, Seamless Forest Floor Concrete Stamp Pattern, Seamless Coquina Stone with Shells Concrete Stamp Pattern, Gilpin's Fall Bridge Plank Concrete Stamp Pattern, Random Boardwalk Concrete Stamp Pattern, Running Bond Used Brick Concrete Stamp Pattern, 4″ Tumbled Edge Stone Border Concrete Stamp Pattern, Verona Cobblestone Concrete Stamp Pattern, 12″ Old Granite Tile Concrete Stamp Pattern, Herringbone Slate Concrete Stamp Pattern, Sidewalk Slate Concrete Stamp Pattern, 4′ Compass Medallion Concrete Stamp Pattern, Appian Cobble Stone Concrete Stamp Pattern, 24″ Old Granite Tile Concrete Stamp Pattern, European Fan Concrete Stamp Pattern, 13′ Diameter 16 Point Star Concrete Stamp Pattern, European Fan Concrete Stamp Pattern, 4″ Flamed Granite Tile Concrete Stamp Pattern, Herringbone Used Brick Concrete Stamp Pattern, Basketweave Used Brick Concrete Stamp Pattern